I saw that Michelle from Snapshots participated in a new blog hop this morning and I thought this would be a great way for me to tell about my weekend. Tami is hosting this brand new hop. Go check out her page, here.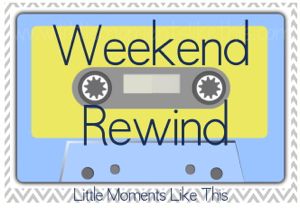 So this weekend I had a garage sale (you can read about it HERE) that started on Friday so I had to spend a lot of time preparing for it. I normally don't like to have garage sales because it is usually a lot of work for very little profit. This time my goal was to make enough to pay for the kids to get their passports. I ended up making about $270 so that was enough to pay for 2 1/2 of them.
Saturday, once again, started off with the garage sale. Later in the day, though, Hottie Scottie and I headed down to the Scottrade Center to watch Game 1, Round 2 of the Stanley Cup playoffs where the Blues took on the Kings. Unfortunately, the Blues lost (BOO!). That wasn't the only bad thing of the night. There were some horrible storms that came through St. Louis that actually ended in one fatality. Thank God we were ok but our car received a lot of hail damage. We've only had it one year THIS WEEKEND!
We woke up Sunday morning and just kind of lazed around. Sunday night, though, we had went to see Van Halen featuring David Lee Roth and with opening act Kool and the Gang. Obviously we didn't realize 2 months ago when we bought the tickets that the Blues would also be in the playoffs at the same time or we would not have gone to the concert. Anyway, we went ahead and went and I thought it was OK. We have seen Kool and the Gang before and they were great. David Lee Roth was . . . something?? I've got to be honest, I am not a big Van Halen fan but if I had to choose between DLR or Sammy Hagar, I definitely now know that I would pick Sammy. I think DLR has forgotten that he isn't in his 20's or 30's anymore and it was almost embarrassing at times some of his motions and dances. He did sound pretty good, though, and Eddie Van Halen played a great guitar solo. Plus, they played Panama so I was happy.
Hope your weekend was more relaxing than mine!!