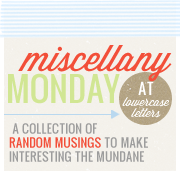 1. I'm experiencing a bit of Mommy guilt today. Things have been crazy here the last couple of weeks with our

anniversary trip

and the World Series. The month has gotten away from us and we never went to the Pumpkin Patch.
2. I am really annoyed with coffee mugs. I cannot find a good coffee mug that doesn't leak all over me. I love my Disney World mugs but I have used them so many times that one of the lids split in two and there is hardly any design on the side anymore. Any good coffee mug suggestions?
3. I cannot believe the St. Louis Rams beat the New Orleans Saints yesterday.
4. I did not put any Halloween decorations out this year. See #1. More Mommy guilt.
5. I am not ready for Christmas. I am not ready for Thanksgiving. I am really kind of in a blah mood right now. I think it is post vacation blues.
6. I've been thinking about watermarking all of my pics that I post on here but it seems like such a pain. Anyone know a quick and easy way to do this?
And, just because every post deserves a picture, I'm still on a proverbial high from Friday night.