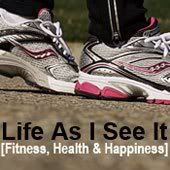 Today is Fitness Friday and I wanted to take the chance to talk about one of the most important thing in health and weight loss . . .diet.
I don't know about you guys but it always seems to be like the more I work out and the more dedicated I am to the fitness side of health then the more my diet tanks. I'm not really quite sure why that is. I try to be more conscientious during those times but I don't know if maybe I'm excusing my diet by thinking,
"I can have these chips and salsa today because I did just run 5 miles this morning."
I also find, like a lot of people, that I can eat so good all day long but right around 7pm, I start getting the munchies. I guess that wouldn't be a bad thing if I would want a piece of fruit or vegetables but my munchies always include carbs. Always.
Do you have issues balancing your fitness and diet? Is one easier for you?