I LOVE this new blog hop that I found a few weeks ago. I love reading about others' fitness journey and from this hop I have even joined a Facebook group for Running Mommies. I really feel that part of the success to a healthy lifestyle is support and these ladies are full of encouragement.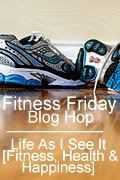 This past week I have been a little bummed about running. Last week I had Scott re-download some Army cadences and I literally had 3 of the best running days that I have had in probably 3 years. (You can read about them here) After those days of running, though, my neuroma popped back out along with the ganglion cyst so I had to take some days off. I'm hoping to get up early tomorrow morning, though, and go at least 4 miles.
Instead of the pounding on my foot, I bought a couple new videos this week. I gave up working out at a gym a few months ago and have lost more weight and gotten in better shape just doing it on my own.
I love the ab portions of this DVD. There are 3 separate sections: upper abs, lower abs, and obliques. I also like the fact that in this video once you have finished a body part, ie quads, hamstrings, then you don't go back to it. I don't really like the fact that there is no cardio but my heart rate definitely rose because of the weights and the fast pace of going straight from one exercise to another.
The other video is back to my fitness guru Jillian Michaels' and her 6 Week Six-Pack
Although I've only done this workout one time, I just thought it was OK compared to her other DVDs. I definitely was sweating during and after the workout but I guess I thought that there would be more core intensive or moves. I never really felt "the burn" during Level 1 but I know that I was burning fat because my heart rate did increase. I will definitely work this DVD into my rotation.
Do you have any favorite home workouts? I'd love to hear about them.