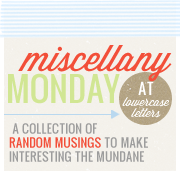 Friday night we had "Girls Movie Night." I haven't done that in so long. We had homemade pizzas, salads, and lots of wine. We watched P.S. I Love You and I cried like a baby. It was a great time. LOL
A big thanks to my friend, Carrie, for sending me the brand new Jillian Michaels "Ripped in 30 Days" and "No More Trouble Zones." They are both fantastic!
I am going to be changing my blog design. Yes, again! It seems as though I get bored pretty easily, huh?
Kanin is on Spring Break next week. I really hope that it warms up a bit. I want to go to the zoo, park, and, of course, the St. Patty's Day Parade.
I am so excited for Wednesday to get here. Not only is it Ash Wednesday but it is the day that I start my 40 Days of Trash Project.