Today I am participating in Top 2 Tuesday. The topic is Top 2 Songs on your Ipod.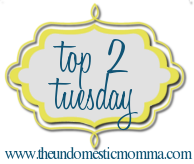 To be honest, the only time I listen to my iPod is when I am running so here are my Top 2 3 running songs right now. These are the songs that I love to listen to when I am gassed. My iPod is usually on Shuffle when I run and I always get annoyed when these three songs come on too soon. I need them to get me over the edge.
Flo Rida featuring T-Pain "Low"
Jamie Foxx featuring T-Pain (maybe it's a theme-LOL) "Blame It"