For a couple of week's now, I have noticed that For the Love of Blogs has hosted a hop called: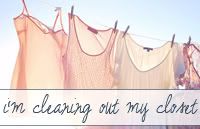 I've read a lot of the posts that pertain to various things. Family, sports, food, entertainment. Some people have really gotten personal and I've thought to myself,
"I hope to God whoever they are writing this about doesn't read their blog!"
I have so many things going through my mind but just not sure how if I should write them down. I am known to bottle things in until they explode but in the words of my husband "this isn't my fight."
Final thought . . .
To us, family means putting your arms around each other and being there. ~Barbara Bush