Today's topic in the 11 in 2011 Blog hop is Favorite Girls Night Out.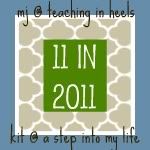 My first question . . . what is this? Just kidding, kind of. It has been a long time since I've done a 100% girls night out. There are several reasons that this much needed night has taken a back seat but here are just a few: I have 3 kids, some of my friends have kids, we all have husbands.
When I do get out with my friends, though, my very favorite place to go is this little bitty bar called Tuner's. So much fun! This place is tiny but they always have great live bands.
Some of my other favorites:
Trying out new restaurants.
St. Louis Cardinals games.
Going to see musicals at the Fox or Muny.