It is the last day of the 11 in 2011 blog hop and the topic is What Are You Looking Forward to in 2011.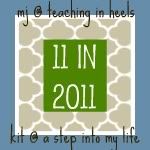 At this exact moment, we don't have a whole lot planned in 2011.
I am looking forward to Vegas in March celebrating our niece's 21st birthday and seeing our nephew who will be home from Afghanistan and is going to meet us there.
I am looking forward to baseball season and hanging out with all of my ballpark friends and hopefully repeating this moment:
I am also looking forward to celebrating my 5 year anniversary with Hottie Scottie. What a ride.