Today's topic in the 11 in 2011 is Places You'd Like to Go This Year.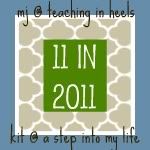 I always love to go here:
I can't wait until March, our next trip.
I also love this place:
I would love to go back this year with the kids but I also would love to go back with just the Daddy. We'd really love to golf and ride all of the rides that we want to ride. LOL
If I could pick any place to go this year, though, I would love to go away with Scott to any place that has this:
I will have everything I need.