Announcement: Don't forget to enter my

Giveaway

. Drawing on January 31. 2 Free months to kickstart a healthier lifestyle!
Last week I linked up with Toddler Talk Thursdays when the discussion focused on toddlers and their loveys. My post about Caleb and his friend was chosen as the highlighted blog of the week. I am honored!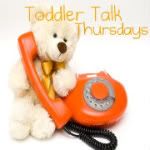 This week's topic also hits close to home. This week we are talking about adding to your family and how to know if you are ready for a new baby.
When Scott and I got married we already had Kanin. Kanin was 2 and to say that I was ready for another baby would be an understatement. I jokingly told everyone within earshot, "I'd better get pregnant on my wedding night." To be honest with you, I don't think Scott and I even talked about it other than he was under a lot of pressure. LOL Fast-forward nine months and . . .
After quitting my job, staying home with the kids, and adjusting to the life as a mom of two, I started thinking about another baby when Gracie was about 15 months old but we were in no way trying to have another child. I had a lot of female problems after Gracie and had to change birth controls several times.
One day I woke up and had that feeling. If you've had that feeling you know what I'm talking about. Run to the store, buy the test and it is positive. We were shocked to say the least. The third baby was definitely not planned and not discussed but still such a blessing.
When I think back on life with two kids instead of three, I laugh at myself for thinking it was stressful. I had no clue how difficult life with three would be. Gracie and Caleb are exactly 2 years and 2 days about. Just everyday things that I took for granted when I had two kids could no longer happen when I had three. The first thing that came to mind was that I had to change cars. Going to the grocery store? Forget about it. By the time I put the carseat in the basket, there was no room for groceries and Gracie still had to ride up front. Caleb obviously needed a lot of my attention but, of course, Gracie was still so little and Kanin needed attention, too. The only word I can describe the first year was STRESS.
After all of that, would you believe that we actually talked about having a fourth? So far, though, we've each talked about it at separate times. When I was kind of leaning toward having another one, Scott was an absolute "No." A couple of times he has stirred that conversation and I have been at "No." I really think that I am done. I thought that I would have that tug again, and maybe if Gracie were already in kindergarten I would, but I don't know if I could handle it. Just being honest. I love my babies but sometimes they do get on my nerves and I think, "there is no way I could do another one."
I guess that is where we are. I've heard people say it is like meeting your spouse, "When you know, you know." For now, I NO.