Like a lot of people, one of my goals in 2011 is to declutter my house and get it clean again. Julie over at The Nest Builder

shares her cleaning schedule today and also the source of her inspiration: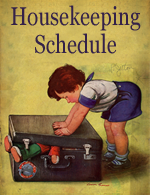 They both have a lot of really great tips for a daily cleaning schedule. I am going to try this out again because this house needs an intervention!