Today I am participating in a new blog hop, It's a Social Parade-Follow on Friday.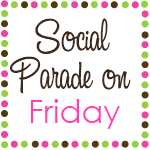 This morning I met my breaking point when it came to GracieAnn and her hair. Everytime we washed it or everytime I tried to brush it she would scream and scream. The problem was that the ends were all baby hair and would get tangled throughout the day.
I wasn't sad to have her cut her hair. We had her first haircut last summer for the first time . . .

(September 2009)
(September 2009)
(September 2009)
and I shed all of my tears then. No, today I was so happy to get the hair out of her face and off of her back.
We went to the Hairy Elephant and Gracie and Caleb played with the Legos and trains until they called her name. I had to take one last "long hair" shot.
She got her hair washed by the elephant's trunk and made her own shampoo concoction--strawberry cupcake.
Next she picked out what car to sit in and what movie to watch. . . Dora, of course!
She liked when the lady sectioned off her hair and put them in these clips.
The first cut. It was 5 inches long. I didn't save any hair today because I already have her First Haircut certificate.
Gracie did awesome during the cut. She listened to the lady and did exactly what she said to do.
The final touch was a little ponytail with a couple of yellow butterfly clips.
I cannot tell you how much I love it. She looks so cute with this haircut and it definitely is a haircut worthy of Gracie SassyPants.