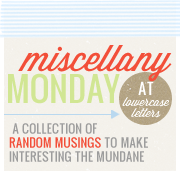 It is Miscellany Monday. Here's what I'm thinking:
1. I do not want to go out in the cold to finish Christmas shopping. I really need to go to Costco for some groceries/supplies but i don't want to get all of the kids out in this freezing cold weather.
2. I am going to lose to my husband in the Fantasy Football playoffs. My team just fell apart. I'm already looking to next year.
3. I wish that it was acceptable to wear my cozy pajamas out in public. The thought of having to change clothes to go pick up Kanin from school is just not appealing.
4. I realized that I never get tired of Las Vegas. No responsibilities, no kids, no driving. So thankful that we have family that is willing to help us out and love our kids enough to watch them for these weekends.
Any miscellaneous thoughts from you guys?